Special
Regular price
Sale price
4.850,00 €
Unit price
per
Sale
Sold
This item is subject to differential taxation according to § 25a UStG. The VAT is therefore not shown separately on the invoice.
Omega Vintage De Ville Armbanduhr, ca. 1960/70er Jahre,
in 750 Weißgold mit Handaufzugwerk, Cal. 620.
Zifferblatt silber-index.
Gehäuse-Nr. 224XXXXX
Zugfeder erneuert in hauseigener Werkstatt 11/2022.
Uhr ist nicht wasserdicht!
Gehäuse-Durchmesser ca. 32mm
(gemessen ohne Krone).
Unsere Expertin empfiehlt:
Diese Omega De Ville aus den 1960er Jahren ist nicht nur eine Uhr, sondern ein wertvolles Sammlerstück und ein Symbol für die goldene Ära der Uhrmacherkunst. Sie ist ein Zeuge vergangener Zeiten und ein Erbstück, das die Geschichte und die Eleganz vergangener Jahrzehnte mit Leichtigkeit in die Gegenwart transportiert.
| | |
| --- | --- |
| BRAND | Omega |
| MODEL | Vintage De Ville |
| TYPE | Unisex |
| CASE | 750 Weißgold |
| STRAP | 750 Weißgold |
| CALIBRE | Handaufzug |
| DIAL | Silber |
| GLASS | Plexiglas |
| DIAMETER | 32mm |
| TECHNICAL GRADING | 3 |
| OPTICAL GRADING | 3 |
| YEAR | ca. 1960/70er Jahre |
| PAPERS | No |
| BOX | No |
| INTERNAL NR. | 134282 |
How does our rating system work?
View full details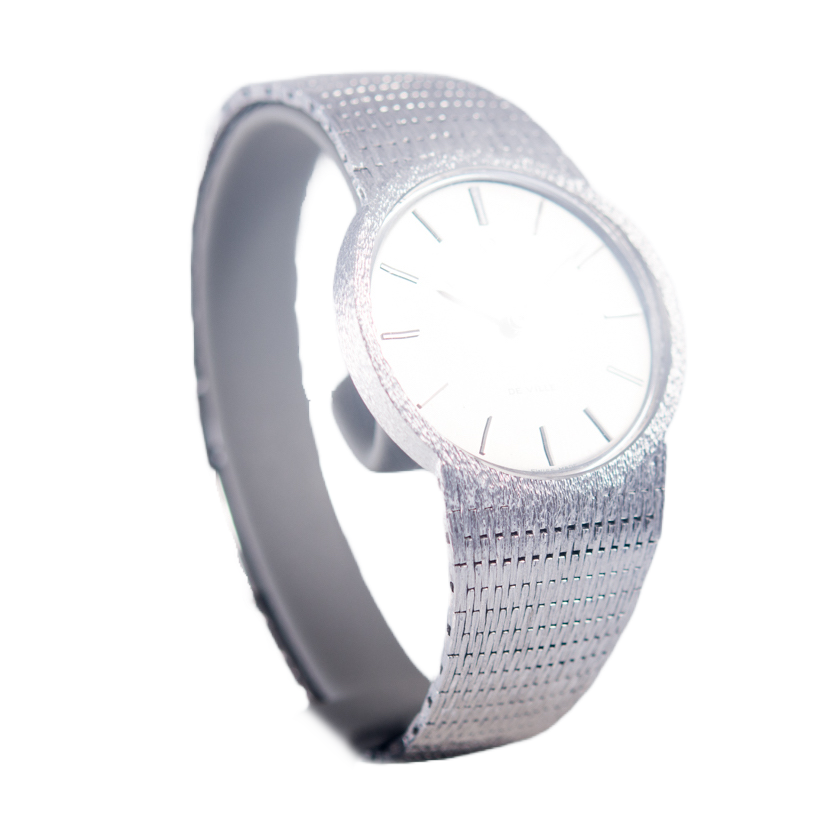 How does our rating system work?
Optical condition
0: New condition, unworn, some still foiled
1: Hardly/minimal signs of wear
2: Slight to normal signs of wear
3: Normal signs of wear plus some deeper scratches that do not completely disappear with polishing
4: Normal to clear signs of wear plus many deeper scratches that do not disappear completely even after polishing
5: Strong signs of wear but still without impairment of function, strap worn out
6: Heaviest signs of wear, some of which cause malfunctions (e.g. rotating bezel stuck), strap worn out (risk of loss)
Technical condition
0: Manufacturer's warranty still running
1: New condition or newly revised
2: Fully functional, but the watch has been running for a few years since purchase or last revision
3: Functional but with rate deviations, no longer full power reserve, revision advisable but not yet urgently necessary
4: Revision necessary. Partial failures possible (e.g. automatic winding no longer functional, quick date adjustment no longer functional)
5: Revision urgently required. Partial repair pointless, no longer functional, possibly slight rust. Defects can still be corrected by revision
6: Irreparable condition, spare parts no longer available, possibly severe rust, economic total loss.